Drum Lessons
DRUM SET EDUCATION
IN West Yorkshire
More than just drum lessons

.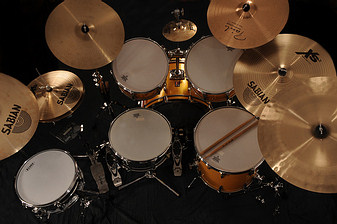 Good foundations are essential for the modern drummer.
Students will begin to attain control over the drumset by exploring:
Quater notes, Eighth notes Sixteenth notes
Snare and Base Drum variations
Every drummer can only play as fast as his/her slowest limb
students will begin to master speed, accuracy and control around the drum set.
Introduction to odd-time signatures
Drum Rudiments and application
introduction to drum Solos
Lessons will be tailord to the students own requirements.

Beginners to advanced students of all ages welcome.
Parents are welcome to sit in.
It is very important for you to know that there is no "one size fits all"
instructional program out there that works for everyone. Your drum Lessons
will be tailord just for you so that you can go from your current playing
level to achieving you ultimate musical goals.
I will focus on what you need to learn to make maximum impovements in the shortest possible time.
I will use targeted methods and instructions

that will allow you to improve quickly so that you can
PLAY THE DRUMS THE WAY YOU'VE ALWAYS WANTED.
Drum Kit Hire available if rquired
I now teach from 10am to 10pm Monday to Friday and from
9.30am to 12.30 Saturday's